OUR LINKS
St Joseph
St Joseph was the foster-father of Jesus and the husband of Our Lady, the Blessed Virgin Mary. He died in the 1st century.
All that we know about him is contained in the Gospels of St Matthew and St Luke. He was of the line of David, and was probably born in Bethlehem. He was a carpenter by trade, and settled and worked in Nazareth in Galilee.
Joseph was betrothed to be married to Mary when she was found to be pregnant with Jesus. He had decided to divorce her informally when an angel appeared to him in a dream. The angel told Joseph that Mary had conceived the child by the Holy Spirit, and he should not be afraid to take Mary as his wife. The angel told Joseph that he should call the child Jesus, for he would save his people from their sins. Joseph did as the angel commanded and married Mary.
A few months later, Joseph and Mary had to travel to Joseph's home town of Bethlehem to be enrolled, in accordance with a decree issued by the Roman emperor, Caesar Augustus. By this time, Mary's pregnancy was coming to an end and she was near to giving birth to Jesus. There was no room for them in the inn at Bethlehem, so Mary gave birth to Jesus and laid him in a manger.
Joseph was present when the Magi, the three wise men, brought their gifts of gold, frankincense and myrrh to Jesus at Bethlehem. Forty days after Jesus's birth, Joseph and Mary took him to Jerusalem to present him at the temple as their first-born child, in accordance with the law of Moses. There they met Simeon. Simeon had been promised that he should not die before he had seen Christ the Lord. On seeing Jesus, Simeon prayed the prayer that we know as the Nunc Dimittis:
"Now dismiss Thy servant, O Lord, in peace, according to Thy word: For mine own eyes hath seen Thy salvation, Which Thou hast prepared in the sight of all the peoples, A light to reveal Thee to the nations and the glory of Thy people Israel."
Herod by now had heard of the birth of the King of the Jews. In a dream, an angel warned Joseph of the grave danger of Herod, telling Joseph to fly into Egypt with Mary and Jesus, and to stay there until the angel told him to return. Again, Joseph did as the angel commanded him to do, and hurried to Egypt.
After a few years, Joseph returned to Nazareth with Mary and Jesus. There, he continued to look after the Holy Family by his work as a carpenter. He was faithful to the religious practices commanded by the Jewish Law.
On one occasion, on the annual Passover pilgrimage to Jerusalem when Jesus was 12 years old, Jesus lingered in the temple. Mary and Joseph thought he had gone ahead of them so they returned home. After a day of travel they realized Jesus was missing, so they returned to Jerusalem, finding Jesus three days later. He was found in the Temple in discussion with the elders who were amazed at his learning. When admonished by Mary, Jesus replied "Why did you seek Me? Did you not know that I must be about My Father's business?"
The Gospels tell us no more about Joseph. It is thought that he may have died before Jesus's public ministry began, and was buried in the Valley of Josaphat.
Devotion to St Joseph is due in great part to St Teresa of Avila, the founder of the Order of Discalced Carmelites and a Doctor of the Church.
St Teresa wrote:
" I took for my advocate and lord the glorious St Joseph and earnestly recommended myself to him. I saw clearly that […] this father and lord of mine came to my rescue in better ways than I knew how to ask for. I don't recall up to this day ever having petitioned him for anything that he failed to grant. It is an amazing thing the great many favours God has granted me through the mediation of this blessed saint, the dangers I was freed from both of body and soul. For with other saints it seems the Lord has given them grace to be of help in one need, whereas with this glorious saint I have experience that he helps in all our needs and that the Lord wants us to understand that just as He was subject to St Joseph on earth – for since bearing the title of father, being the Lord's tutor , Joseph could give the Child command – so in heaven God does whatever he commands.
Because of my impressive experience of the goods this glorious saint obtains from God, I had the desire to persuade all to be devoted to him. I have not known anyone truly devoted to him and rendering him special services who has not advanced more in virtue. For in a powerful way he benefits souls who recommend themselves to him. It seems to me that for some years now I have asked him for something on his feast day, and my petition is always granted. […] I only ask for the love of God those who do not believe me to try, and they will see through experience the great good that comes from recommending oneself to this glorious patriarch and being devoted to him. Especially persons of prayer should always be attached to him. For I don't know how one can think about the Queen of Angels and about when she went through so much with the Infant Jesus without giving thanks to St Joseph for the good assistance that he provided them both with."
St Joseph is the patron saint of our parish in Newbury, and of our school. He is also the patron of the Universal Church, as well as the patron of fathers of families and of manual workers, especially carpenters. He has two feast days: The Feast of St Joseph on 19 March each year, and the Feast of St Joseph the Worker on 1 May each year.
An Ancient Prayer to St. Joseph
O St. Joseph, whose protection is so great, so strong, so prompt before the throne of God, I place in thee all my interests and desires. O St. Joseph, assist me by thy powerful intercession and obtain for me all spiritual blessings through thy foster Son, Jesus Christ Our Lord, so that, having engaged here below thy heavenly power, I may offer thee my thanksgiving and homage.
O St. Joseph, I never weary contemplating thee and Jesus asleep in thine arms. I dare not approach while He reposes near thy heart. Press Him in my name and kiss His fine head for me, and ask Him to return the kiss when I draw my dying breath.
St. Joseph, patron of departing souls, pray for me.
Our Parish Links
St Joseph's Church
The Parish of St Joseph's in the Diocese of Portsmouth. The Catholic parish church of NEWBURY.
St Joseph's Church, 105 London Road, Newbury, Berkshire, RG14 1JP. Tel: 01635 40167
Please see their website for further information
http://www.stjosephsnewbury.org.uk/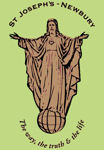 Portsmouth Catholic Diocese
The Diocese of Portsmouth covers Hampshire, the Isle of Wight, the Channel Isles and parts of Berkshire, Dorset and Oxfordshire
COINS
Giving children and young people in Newbury schools the opportunity to hear and respond to the good news of Jesus.
Loose Ends
Loose Ends is the only drop-in centre in Newbury serving food to the homeless and vulnerable. They are run solely by volunteers who serve on average 160 meals a week and give over 6,000 hours a year of their time to helping Loose Ends.
St Francis de Sales Church
The Parish of St Francis de Sales in the Diocese of Portsmouth. The Catholic parish church of WASH COMMON.
St Francis de Sales Church, St Francis de Sales, NEWBURY, Wash Common, RG14 6NH Tel: 01635 40332
Please see their website for further information
The Catholic Education Service (CES)
The Catholic Education Service (CES) acts on behalf of the Catholic Bishops' Conference to support Catholic education. We have a strong and positive working relationship with the British and Welsh Government, sharing the aims of high academic standards for all and increased parental choice
CAFOD
CAFOD stands for the Catholic Agency For Overseas Development. We are an international development charity and the official aid agency of the Catholic Church in England and Wales.
West Berkshire Food Bank
The people who run the food bank don't think anyone in our community should have to face going hungry. That's why they provide three days' nutritionally balanced emergency food and support to local people who are referred to them in crisis.